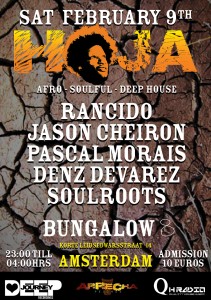 After we had to cancel our event earlier on, we are happy to announce that we can provide you with another edition of HOJA.
It will be Saturday the 9th of february. Only this one time we are collaborating with another party which is Mrs Jones. They will host the first floor with eclectic sounds and we will do our thing upstairs where its more dark and raw which fits perfect to our beats!
HOJA is Amsterdam's finest concept when it comes to providing you with the latest Afro Deep and Soulful house music.
No other concept will make you dance to solely quality house music mainly from African soil. Why? Because this is what we do, this is what we believe in, this is what we stand for. We do not compromise!
And therefore we give you a line-up with just purists djs:
Rancido (Deep Journey Recordings)
Pascal Morais (Arrecha Records)
Denz Devarez (QH-Radio)
Jason Cheiron (Seed, Nulu, Cabana)
Soulroots
So keep saturday the 9th of february in your minds or agenda's.
Keep in mind that we expect lots of people again and the guestlist will close at 1.00AM. So be on time! No exceptions made…HOJA!
RSVP Here