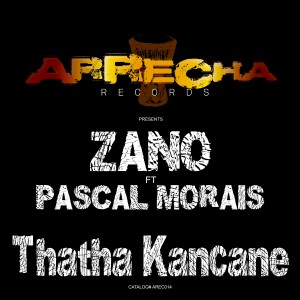 Again Arrecha Records brings you another collaboration between the Motherland, Africa and the Netherlands.
This time it's Zano from South Africa who drops his lyrics on a superb production by Pascal Morais.
Zano, who has already collaborated with Black Coffee and Culoe de Song, spices up this deep percussive track and
shows he is capable to sing in more languages than just English. In this case it is Xhosa one of his native languages that will make you dance.
Zano and Pascal met each other in early 2012, when Zano was on tour in The Netherlands. Zano showed he is a hard worker as he straight away dived into the studio after his performances from his tour. Pascal showed him a beat and one hour later Thatha Kancane was born. At first Pascal thought Zano wasn't interested because he seemed to be playing with his Blackberry. So it seemed wrong as Zano was writing the lyrics t0 this phenominal track. They have plans to record a video as well but because both artist live far away from each other so as soon as they meet up again this will be created. Thatha Kancane will be released as a promo february 7 and has incredible support from: Black Coffee, Culoe de Song, Atjazz (who mastered it as well), Osunlade, Mr V, Carlos Mena, Simbad, Vinny da Vinci, Nkokhi, D-Malice and many many more..Watch out for this baby!