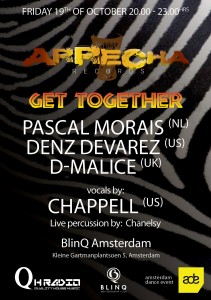 There have been some changes to our line up for this friday's event, Arrecha Records – Get together.
Unfortunately Zano Nzima from South Africa and Wayne Tennant from Canada are unable to join us.
we are very unpleasant with this situation as well as the artists that were supposed to perform this friday.
Arrecha Records wouldn't be Arrecha Records if we didn't come with a backup plan. We are happy to add two new artists to out line up.
We are very happy to have Chappell willing to join us and sing for us a few hits, like Make you move, which he featured on with Culoe de Song.
Besides that he will perform his latest release which now is already in the top 20 in South Africa's Dance charts. Besides that we have an icon when it come to percussion. Chanelsy will come and join us to to play percussion while the DJs are spinning. For those who don't know Chanelsy, he has been playing for over 30 years and had performed alongside world class artist like Chaka Kahn, Jocelyn Brown, George Clinton and many many more…
Nonetheless, Friday's event will be a very energetic and spectacular event which you can't miss. So come and join us with your friends and let us take you on a Deep Soulful Afro Journey to start you weekend off! And remember it's FREE of charge! See you there…..