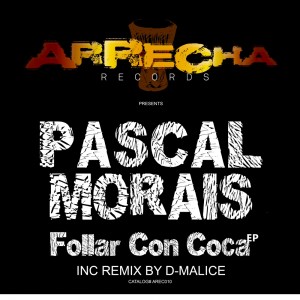 We are proud to bring you our 10th release on Arrecha Records. This time Pascal Morais releases his Follar con Coca EP with new remixes by Pascal himself and DM-Recordings owner D-Malice. Three Afro Deep house track with smooth vocals from Gabriela will take you to mysterious heights leaving you yearning for more..
This track has been released already in 2009 on On Tha Floor Records with remixes by Silverius, Dekky and Jay Santi. It got major support by the likes of Mark Knight and Dennis Ruyer (538 Dance Department) which both played them at their weekly radio show which is listened by hundreds of thousands of people world wide.
Because Pascal created a whole new remix and asked good friend and label owner D-Malice (DM-Recordings) to join into the project, the EP now has a more Afro feel in it.
The promo received loads of positive feedback from producers like Atjazz, Rancido, Booker T, Abicah Soul, Denz Devarez, Atmospheric Deep and the list goes on and on.. To get yourself a copy click here and enjoy listening!